Go Professional with PosterPresentations.com's 48x36 Trifold poster board.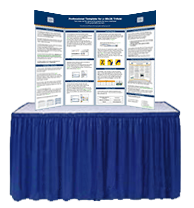 Your upcoming presentation could help you land your next client, snag additional funds for your research project or help you earn an "A" for the semester. So, let's get serious. You want your audience to sit up and pay attention as soon as you display your trifold presentation board. PosterPresentations.com has you covered.

Say good-bye to the old fashion foam-core poster board you used in grammar school. Our trifold poster board is designed for the true professional. We print on Sintra, (3mm White expanded PVC), the preferred choice for commercial trade show displays and then we laminate it with our glare and fingerprint-free laminate that is sure to give your presentation the extra "oomph" you would expect from a professional product.

PosterPresentations.com was the first online poster printing company to offer trade show quality trifold
presentation boards. We offer you a quality trifold poster with quick, convenient shipping for only $99 with Free Fedex Ground shipping included. It's shipped in a 24"x36"x1" sturdy reusable shipping box. Our reusable shipping box makes it easy to travel with your trifold display board, or ship it to your destination, ahead of time.

Ordering your presentation board is simple. Download the 48x36 trifold PowerPoint template provided on this page or our free templates page. It's specifically designed and sized for standard size trifold poster boards. Use the template to enter your presentation text, images and graphs. When you're done, click the "Order your poster" button to the right. Provide your contact and delivery information and upload your PowerPoint poster presentation. We'll send you a proof by email and once you review your proof your trifold will ship out the next day to arrive according to your request.

Do you want to make a lasting impression during your next presentation? Try PosterPresentations.com's trifold display board today. Our customer care experts are available by phone at 1-866-649-3004 to answer all of your questions.

---
Graphics for Monsterboard™ science fair board
Going to a science fair requiring that your presentation is on a oversized trifold board also known as Monsterboard™? Monsterboards™ (71" tall x 42" wide when set up) can be purchased online from ShowBoard.com. Go to Google.com and look for "monsterboard for science fair". You will see a list of companies your can order your board from.
To design and print the graphics for your MonsterBoard™ download our PowerPoint MonsterBoard™ template and follow the instructions on the template. Do NOT change the size of the template or you will not be able to have your graphics printed.
Once you open the PowerPoint template you will see four panels. See below:

Empty MonsterBoard™ Powerpoint template
Design and put the content of your presentation inside the panel areas. Anything you put outside those areas will not be printed, so be careful. Here is an example of a completed presentation using the template:

Sample provided courtesy of Shyam Sarkar
And here is the final product on the actual MonsterBoard™:
We ship the printed graphics as four separate ROLLED poster prints. You can adhere the the poster prints on your MonsterBoard™ with Velcro strips (add $10) or with double-sticky Scotch tape you can buy from an office supply store. To attach the graphics to the board put the board face-up on the floor and attach the graphics from the bottom up. Make sure the graphics are secure to the board and carefully lift your board up. If you need to reposition your graphics be careful so you don't rip the paper.
You cannot collapse your MonsterBoard™ with the graphics attached to it. You will have to remove them after your presentation.
To order the graphics for your MonsterBoard™ click here

---
Take your Trifold poster board to another level
You can now safely attach your tablet (ipad, etc) to your poster board for a high-impact presentation. Use the template provided here to design and order your presentation. The trifold will be delivered with our special adhesive already on the board. Just peel and stick your tablet to your trifold. The adhesive will securely hold it in place. When you are ready to remove your tablet from the board simply lift it up and it will come right off. Neither the tablet or the board will be damaged. The adhesive will not leave any residue on your valuable tablet.
Disclaimer: We cannot possibly guarantee that the adhesive will work flawlessly with all tablet models and brands. It was tested successfully with an Apple iPad (as shown in the picture). In order to keep the tablet securely in place the adhesive has to be strong. Removing the tablet from the board requires careful removal so that neither the tablet or the board are damaged. There may be a case that a particular brand of tablet may have a back surface that may be damaged by the adhesive tape. We provide extra adhesive tape for you to test before you adhere your table to the board's surface. We are not, under ANY circumstance responsible for any damage that can occur to your tablet due to the use of this product. By ordering this product you are agreeing to this disclaimer.